HOME

PRODUCTS
| | |
| --- | --- |
| | BITUMEN SPRAYER |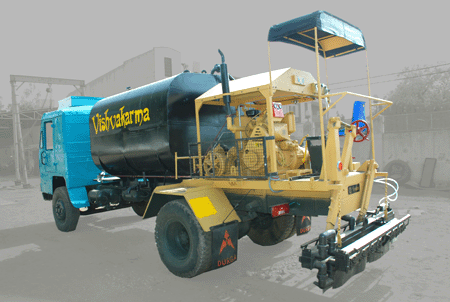 FEATURES
FULLY INSULATED TANK WITH HIGH PERFORMANCE OIL HEATING
AIR COOLED DIESEL ENGINE AND POSITIVED DISPLACEMENT GEAR PUMP
FULLY-CIRCULATING SPRAY BAR
OPERTOR'S PLATFORM WITH HOOD
SIMPLE PRESSURE CLEANING SYSTEM PROVIDED
DIGITAL SPEED INDICATOR
MOISTURE SEPARATOR FOR CLEAN & DRY AIR
BITUMEN TANK
Model
4000 / 6000 VBS
Capacity
4000 / 6000 Liters.
Tank Shape
Oval
Insulation
50 mm thick glass wool
Temperature Gauge
0-300°C
Manhole
450 mm Dia.
Mounting
Tank Mounted on any truck chachis of wheel base 17 6"/166"
SPRAY BAR
Length
2.5 mtr.
Lengthwith Extension
4.00mtr.
Control of Spray Bar
Pneumatically Operated
Pre-Heating of Spray Bar
Fully circulating of pre-heated Bitumen
BITUMEN PUMP
2" X 2" size positive displacement gear pump with output of 400 Ltrs./ Min.
AIR C0MPRESS0R
Standard make 2 Cyl. air compressor.
BURNER
Fuel Consumption
20 Ltr./ hr.
FUEL TANK
130 Ltrs. Capacity
ENGINE
Standard make air cooled diesel engine.

Downloading Catalogs*